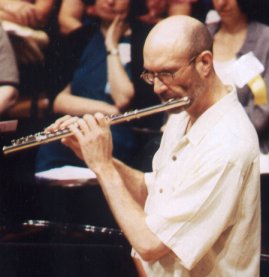 My Biography
I have been principal flute with the Melrose Symphony Orchestra, conducted by the incomparable Yoichi Udagawa, since the 2004-2005 season. I also play flute for the Franklin Performing Arts Company for their musicals (The Wizard of Oz (2005), Cinderella (2006), Into the Woods (2007)), and second flute/piccolo for their annual Nutcracker production.
I teach flute privately and at Northeastern University. I was Visiting Instructor of Flute at the University of Massachusetts - Boston for the summer semester 2000 and during the fall, 2003, and visiting Flute Professor at Rhode Island College for the spring 2007 semester. I have enjoyed coaching chamber ensembles at the Composer Conference at Wellesley College during their 2005, 2007, and 2008 sessions. I am now Assistant Director, Winds for the conference. My past performances page lists my concert appearances, programs and program notes.
My undergraduate studies were at Lawrence University, where I worked with Fred Schroeder and got a double degree in Flute Performance and Slavic Literature. I got my Master of Music degree in Flute Performance from the Stony Brook University, where I studied with Samuel Baron. My Doctor of Musical Arts degree is from the Manhattan School of Music, New York City. I studied there with Thomas Nyfenger. Other flute study includes work with Robert Dick, Henry Zlotnik, and Bernard Goldberg. For three summers I studied in Nice, France with Andras Adorjan and I have also participated in masterclasses with Robert Aitken (Banff, Canada), Jeanne Baxtresser (Banff, Canada), and Eleanor Lawrence (Chatham, MA). I received a Masters of Science degree in Library Science from Simmons College.
For six years I was President of the Pappoutsakis Memorial Fund, which presents the annual Pappoutsakis Flute Competition, and I was the founding Secretary/Treasurer of the Greater Boston Flute Association and served on their advisory board. From 2003-2006 I translated and wrote abstracts of Russian music periodicals for Harmonie Park Press. (I never dreamed when I got those two undergraduate degrees that I would ever be able to use them together!) I have also translated Nicolai Tcherepnin's memoirs for the Tcherepnin Society (2008) and submitted articles on the Tcherepnins and Samuel Baron for Andras Adorjan's Flutists' Lexicon (2008).
You can also check out my Betterfly webpage.